One of the most obvious benefits of dancing is increased physical strength but in Africa dance is a vital aspect of culture and in some cases a ritual.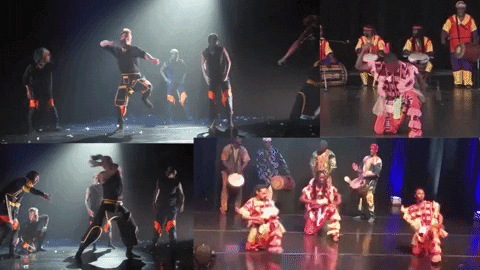 Africa cannot be pushed aside no matter how modern life gets. Dance has transformed over the years with African music. The traditional African dance has seen so much transformation with some simple moves sweeping across the globe like wild-fire. These have occurred with pop-star artistes like Beyonce, Rihana, Chris Brown actually infusing them in their music videos.
Here are seven most famous African traditional dance steps.
Indlamu (South Africa):
This dance is performed by young and energetic men who dress in their magnificent traditional regalia with shields and spears. It is a dance of the Zulu people and is used to celebrate its warriors. This dance is accompanied by singing, traditional musical instruments, shouting and war cries.
Atilogwu (Eastern Nigeria):
Dancing Atilogwu requires a healthy dose of energy. It is characterized by super-fast beats, high jumps, acrobatic moves and dancers lifting each other. Atilogwu is accompanied by musical instruments like the gongs, flutes, balafons (African xylophones) and drums. It is a must dance at almost every Igbo festivity.
Adzogbo (Ghana):
Originally, Adzogbo is a war dance that portrays strength but is now adapted as a socio-cultural dance. Women begin the procession with the elegant movement of the arms and taps and then hops without lifting their foot and men simply follow in a series of energetic 'Atsia', performances.
Ekista (Ethiopia):
This Ethiopian traditional dance is performed by both sexes. It begins at a slow pace, with dancers swaying and clapping then becomes more vigorous as the dancers move their shoulders and chest. It is also called the shoulder dance.
Aduma (Kenya):
Originating from Kenya, the Aduma traditional dance is performed during the coming of age of warriors-locally referred to as Eunoto. This type of dance involves jumping and raising the pitch of voices.
San (Botswana):
Research shows that this is one of the oldest tribes on the continent. The dance is accompanied by singing, fast movements. The complexities of rhythm will make your eyes glued to the dancers.
Ewegh (Niger):
Ewegh is performed by the Tuarge Tribe of the Niger people. It is associated with the nomadic people and is performed by the men. This type of dance is a bit unusual. It is characterised by wailing and funny facial movement. Viewers discretion is advised.
The most interesting aspect of African dances is that they encourage participation, so try to dance along if you find yourself in Africa during any of these dance festivals.
Final word: Eat well before you participate.